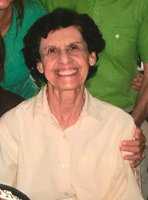 Pauline Wisniewski
Wisniewski, Pauline Mary, 88, of Ridgefield, CT formerly of North Salem, NY and Valley Stream, NY died on March 13th in Danbury, CT
For many years she was an active member of Blessed Sacrament Church in Valley Stream and a part of the PTA and community affairs. She was a loving homemaker and had a lifelong devotion to her family and many friends.
Pauline will forever be remembered by her husband: Charles Wisniewski; her daughters: Kathleen Wisniewski (Henry), Debbie McShane (John) and Wendy Wisniewski (Yosi). She is the grandmother of Rachel, Amanda (Christopher), Audrey and Ben, and sister of Chris Sandie-Gutmann (William).
Her family will receive friends on Thursday, March 15th from 3:00 pm to 7:00 pm at Clark Associates Funeral Home, 4 Woods Bridge Road, Katonah, NY.
The Mass of Christian Burial will be celebrated on Friday, March 16th at 9:45 am at St. Joseph's RC Church, 95 Plum Brook Road, Somers, NY 10589
Interment will follow at Calverton National Cemetery, Calverton, NY.