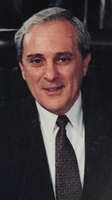 Frank Manna
Frank Manna,
June 4, 2018
Frank Manna of Bedford, NY died peacefully on June 4, 2018 after a long battle with cancer.
Frank was born on February 7, 1937 in Mt. Kisco, NY to the late Patsy A. Manna and Anna Sande Manna of Pleasantville, NY.
He is a graduate of Rensselaer Polytechnic Institute where he earned his bachelor's degree in electrical engineering. After graduation he became a licensed Professional Engineer (P.E.) in the state of New York.
Frank practiced electrical engineering, consulting and construction management until age 78, most recently as president of FMPC, P.E., P.C., a company he founded in 1997. Previously, he worked for over 40 years in electrical contracting and electrical engineering design, and became the chief executive officer of the former Fischbach & Moore, a national electrical contractor headquartered in New York City. He began his electrical contracting career as a teenager, with Manna Electric Company, a Westchester County, NY based business founded by his father.
Frank is the beloved husband of Mary Ann Manna (formerly Attridge) whom he met while they both attended Pleasantville High School. They began dating at age 16, graduated high school together in 1955, married in 1958 and on May 17, 2018 they celebrated their 60th wedding anniversary.
Frank is the loving father of Susan Slevinski and her husband Paul Slevinski of East Hampton, NY, and Geoffrey A. Manna and his wife Kimberly L. Manna of Miami, FL. He is the devoted grandfather of Scott and Gregg Slevinski; Peyton, Preston and Maxwell Manna. He is predeceased by his beloved brother Paul and sister Charlotte. He is the brother-in-law of Sharon Manna and loving uncle to his many nieces and nephews.
Frank loved the warmth of summertime and being outdoors. He often began his weekends early in the morning at the golf course where he loved the competition, friendship, fun and natural beauty. On sun-filled weekend afternoons he frequently could be found at home where he enjoyed gardening, landscaping, cooling-off in the pool and spending time with his family. His enthusiasm and love of life will be missed.
Friends may call at Clark Associates Funeral Home, 4 Woods Bridge Road, Katonah, NY on Friday, June 8, 2018 from 4:00 to 8:00 pm.
The Mass of Christian Burial will be celebrated at St. Patrick's RC Church, 7 Pound Ridge Road, Bedford, NY on Saturday, June 9, 2018 at 10:00 am. Interment will follow at Gate of Heaven Cemetery, 10 W Stevens Ave., Hawthorne, NY.
In lieu of flowers, contributions may be made in memory of Frank Manna to Rosary Hill Home, 600 Linda Ave., Hawthorne, NY 10532.