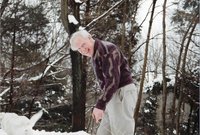 Harry William Kamph,Jr.
Kamph, Harry William, Harry 88 of Bedford Hills, NY died Friday morning, December 14 at home surrounded by family.
Harry was born November 24, 1930 in Mount Kisco, NY to Harry and Mary Kamph.
He was a graduate of Seton Hall University. Harry was the Chief Financial Officer at Commercial Decal,Mount Vernon, New York.
Harry was the beloved husband of Winifred "Una" (née Burke), and the devoted father of Mary Kaye Catone of Bedford, and Julia O'Grady of Fairfax, VA. He was the proud grandfather of Lauren, Matthew, Karl, Delia and James.Harry was predeceased by his sisters, Patricia Vajsabel and Mary Ann Kamph.
The Mass of Christian Burial will be celebrated at St. Mary's RC Church, 55 Valley Rd., Katonah, NY on Thursday, December 20 at 10:30.