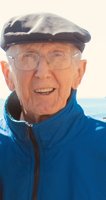 Charles Wisniewski
Wisniewski, Charles, 92 of Ridgefield, CT, formerly of North Salem, NY died on February 3, 2019, in Danbury, CT.
After serving in the US Army during WWII, Charles was an employee of PepsiCo, Inc. He worked in Long Island City and Valhalla, NY for a total of 35 years.
Charles will forever be remembered by his daughters; Kathleen Wisniewski (Henry), Debbie McShane (John), and Wendy Wisniewski (Yosi). He was the grandfather of Rachel McShane, Amanda Day (Christopher), Audrey Bleier, and Ben Bleier.
Charles' family will receive friends on Wednesday, February 6th from 3PM to 7PM at Clark Associates Funeral Home, 4 Woods Bridge Rd., Katonah, NY. The Mass of Christian Burial will be celebrated on Thursday, February 7th at 10AM at St. Joseph's RC Church, 95 Plum Brook Rd., Somers, NY 10589.