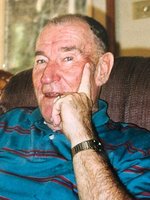 Vernon "Ace" Brundage
Vernon Brundage, 86 of Swansboro NC, formerly of Brewster NY died on January 31st at his home. After serving his country in Korea with the USMC, "Ace" worked proudly as a Sheet Metal Worker with Local Union 38. Vernon will be missed by his sons, Lawrence (Elaine), Alan and Thomas (Laura). He is also survived by his brother Robert Brundage and sister, Gail Epstein, grandchildren: Erin MacNab, Graham, Emily, Danielle, Allison, Cara and Veronica Brundage and great grandchildren: Elijah and Samuel MacNab, Isiah, Aden, Piper and Isabelle Brundage. Vernon dearly missed his wife of 61 years, Dolores who pre-deceased him in April, 2016.
The Brundage family will receive friends on Friday, February 15 from 9:00 a.m. to 11:00 a.m. at Clark Associates Funeral Home, 4 Woods Bridge Road, Katonah NY. Burial at Oakwood Cemetery, Mount Kisco, NY immediately following.