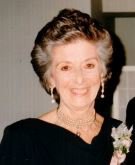 Mary F. Hart
Mary F. Hart died peacefully on February 18, 2019.
Mary was born in Brooklyn, NY on November 21, 1928 to the late Daniel and Edna (Brown) Flynn.
After graduating from St. Mary's High School in Katonah, NY where she met her beloved husband, Patrick, Mary went to work as a Representative of the New York Telephone Company in New York City and Mt. Kisco.
Patrick and Mary were married in St. Francis of Assisi Church in Mt. Kisco on December 22, 1951. Patrick was an active duty member of the US Army and was sent to Okinawa during the Korean Conflict, Mary applied to the Department of the Army to work in personnel in Okinawa and was there for a year.
Taking up residence in Bedford Hills, Mary worked as a volunteer at the Bedford Hills Pool when the Recreation Department was established, she worked in the department for about three years. She was elected as the Town of Bedford Town Clerk in 1975 (the first woman and first Democrat to be elected to that office) and served until her retirement in 1997.
Mary and Patrick had six children; Patrick, Jr., Daniel of Middletown, NY; Mary Brooks (Dr. John) of Arroyo Grande, CA; Michael (Martha) of Manchester, NY; Kathleen of Longview, TX and Brian. Mary was predeceased by her sons Patrick, Jr. and Brian and by her siblings: Msgr. Daniel, Richard, Margaret Duffy and Thomas and also by her son-in-law, Dr. John Brooks.
In addition to her husband and children, Mary is survived by seven grandchildren, Sean (Mandy) of Lafayette, LA; Katherine Dunn (Robert) of White Plains, NY; Kaitlin Rabitoy (Steven) of Rogue River, OR; Meghan Champeau of Brooklyn, Rachel Melhus (Leif) of Newtown, CT; Amy Brooks of Portland, OR and Ian Brooks of Lake Tahoe, CA and also survived by Katherine's mother, Christine P. Hart of Middletown, NY and three great-grandchildren, Maci Jane Hart from Lafayette, LA, and Jade Cecilia and Oliver Lee Rabitoy both from Rogue River, OR and many nieces and nephews.
During her retirement, Mary worked as a volunteer for the Northern Westchester Hospital, Katonah Museum and Katonah Library. She served as past Vice-President of the Westchester County Democratic Committee and was a member of the St. Mary's Choir, Mt. Kisco Legion Auxiliary, Bedford Hills Lions Club, Women's Civic Club of Katonah and the Bedford Hills Woman's Club.
Her family will receive friends at Clark Associates Funeral Home, 4 Woods Bridge Rd., Katonah, NY on Thursday, February 21 from 2-4 and 7-9 pm.
The Mass of Christian Burial will be celebrated at St. Mary's RC Church, 55 Valley Road, Katonah, NY on Friday, Feb 22 at 10:00 am
Interment will follow at St. Francis Cemetery, Mt. Kisco, NY
In lieu of flowers Mary requested contributions to be sent to St. Jude's Research Children's Hospital in Memphis, TN www.stjude.org