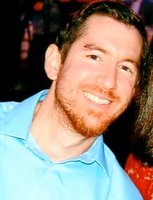 Nicholas A. Jensen
Nicholas A. Jensen, 36, of Katonah, NY, died on February 25th.
His family will receive friends on Sunday, March 3rd from 2-4 and 7-9 pm
at Clark Associates Funeral Home, 4 Woods Bridge Road, Katonah, NY.
The Mass of Christian Burial will be celebrated on Monday, March 4th
at 10:00 am at St. Joseph's RC Church,95 Plum Brook Road, Somers, NY 10589.
Interment will be private.
In lieu of flowers, please consider a donation to the Jensen family:
https://www.gofundme.com/5937r-funeral-expenses-and-support&rcid=r01-155131993968-b5f68452c5274fe7&pc=ot_co_campmgmt_w