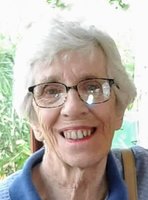 Mary Jane Fusco
Mary Jane Fusco of Katonah, NY
1938-2019
Mary Jane Fusco passed away peacefully on Ash Wednesday, March 6, 2019 surrounded by her family, whom she loved dearly. She was 80 years old. Mary Jane was born Mary Jane Connell on April 19, 1938 in Norwich, Connecticut to the late Thomas Joseph Connell and Ruth (Kupky) Connell. She graduated in 1956 from the Norwich Free Academy, which she treasured, and from the University of Connecticut in 1960 with a degree in English literature. She married Eugene Fusco in 1961 in The Bronx, New York. In 1964, she and her husband moved to Katonah, New York, where they raised their three children and where she lived the rest of her life.
Mary Jane had an abiding love of literature and the theater; she was extremely well-read and had an encyclopedic knowledge of the Broadway and Hollywood musicals of yesteryear. This made her an invaluable resource at the Katonah Village Library, where she worked at the front desk for 20 years, and where she always greeted the patrons with a laugh and a smile. At home, she often talked about the work her father did as electrician on Broadway, and some of her fondest memories from her childhood were traveling with her family by train from Norwich to New York to attend plays such as "Oklahoma" and "My Fair Lady." Even in her later years, when her memory began to fail her, she still remembered all the words to so many of the songs from these beautiful musicals.
Mary Jane was a devout Catholic who attended Mass weekly at St. Mary of the Assumption Parish in Katonah, New York. She prayed regularly and lived her faith daily. She was a loving mother and a wonderful friend to all who knew her.
Mary Jane is survived by her husband Eugene, her oldest son Gene Thomas (daughter-in-law Deborah), her daughter Elizabeth, and her youngest son Andrew. She is also survived by her three grandchildren Arthur, Rebecca, and Daniel, and numerous nieces and nephews. Mary Jane was predeceased by her parents and her two sisters Nancy and Jo Ellen.
The family will receive friends on Sunday, March 10 from 5:00 to 8:00 pm at Clark Associates Funeral Home, 4 Woods Bridge Road, Katonah, NY. The Mass of Christian Burial will be celebrated on Monday, March 11 at 10:00 am at St. Mary of the Assumption Church, 55 Valley Road, Katonah, NY 10536.
In lieu of flowers, contributions may be made in Mary Jane's name to either the Katonah Village Library www.katonahlibrary.org or the Norwich Free Academy www.nfaschool.org