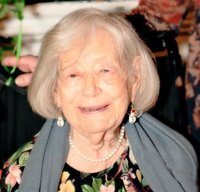 Eleanor MacArthur
Eleanor MacArthur, 100, of Bedford Hills, NY, died at home peacefully on Wednesday, April 24th, 2019. She was born in NYC on January 5, 1919 to Gustave & Elsie Klumpp as the second youngest of seven siblings.
She married her first husband, Stanton Tompkins, on June 21, 1939. Together they raised Janet and Marlene in Peekskill, NY. After Stanton's death in 1963, Eleanor married William MacArthur and they spent the majority of their life together in Ocala, Florida.
For the past 15 years, Eleanor resided in Bedford Hills where she was an active member of the B.H. senior citizen group. She enjoyed knitting, gardening and fancy hats. Eleanor is survived by her daughter, Marlene (Thomas) Enterlein, step-daughter, Jean (Robert) Cole, grandchildren: Larry, Bobby, Janetlee, Dawn, Robin, Billy, Maryanne, many great-grandchildren and one great-great granddaughter.
Funeral services will be held at Clark Associates Funeral Home, 4 Woods Bridge Road, Katonah, NY on Saturday, April 27th from 2-6 P.M.