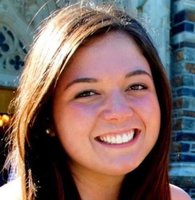 Chelsea M. Decaminada
Statement from Secretary of Commerce Wilbur Ross on the Passing of Chelsea Decaminada
"On May 5, 2019, Chelsea Decaminada passed away as a result of injuries sustained during the April 21st terrorist attacks in Sri Lanka, where she was on assignment.
Chelsea was a talented International Program Specialist in our Commercial Law Development Program (CLDP) of the Office of the General Counsel. Chelsea devoted her life to public service, and her dedication and spirit were a model for all of us at Commerce. She served her country with distinction.
My prayers are with Chelsea's family during this difficult time."
Chelsea's family will receive friends on Wednesday, May 15th from 2:00 to 8:00pm at Clark Associates Funeral Home, 4 Woods Bridge Road, Katonah, NY.
The Mass of Christian Burial will be celebrated on Thursday, May 16th at 11:30 am at St. Joseph's RC Church, 95 Plum Brook Road, Somers, NY. Interment will follow at St. Joseph's Cemetery, Rt. 202, Somers, NY.
Memorial donations in memory of Chelsea Decaminada may be sent to Plan USA at https://www.planusa.org