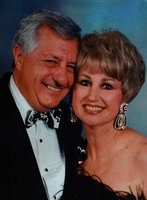 Arthur Jay Benson
OBITUARY
Arthur Jay Benson, "Art or Artie to most" 79, formerly of Pound Ridge NY, died May 11, 2019 at his home in Burnsville NC.
Art was born on September 3, 1939 in the Bronx, NY to the late Irving and Mildred Benowitz (nee Ostrove). He was a Captain in the United States Air Force and was stationed all over the world including Cape Cod MA, Sweetwater TX, Thule Greenland, and Keflavik Iceland.
Art was a graduate of Martin Van Buren High School, where he penned the school's Alma Mater. He then attended Adelphi University where he earned his bachelor's degree. He became business partners with his father in 1966 and was the President and CEO of SureAir, Ltd. in Stamford, CT, where he pioneered the industry of National Heating and Air Conditioning Service Management. He retired in 2001 to spend his days with his wife Sandra.
After the military Art lived all over the country including Queens NY, Pound Ridge NY, Port Aransas TX, Bonita Springs FL and Burnsville NC. He was a huge baseball fan (Yankees and Mets) and an avid golfer. He was a world traveler, a beautiful singer, an amazing photographer, a crossword puzzle enthusiast, a voracious reader and history buff, a musician and an eloquent writer. He published a book in 2011 chronicling his wife's two year battle with cancer. Sandy was the love of his life.
Art was the beloved husband of the late Sandra (nee Snyder) and the loving father of Matthew, Alan (Meredith), Mark (Hallie) and Leah (Matthew). He was the devoted grandfather of Justin, Sophia, Jack, Luke, Ben, Grace, and Nicholas. He was the beloved cousin of Audrey (Ken) Michaels and Daryle (Dick) Prager. He will truly be missed by all.
In lieu of flowers, memorial contributions can be made to Save the Children (savethechildren.org) or VFW (vfw.org).
The funeral will be held on Friday, May 17th. at 11am at The Pound Ridge Cemetery located at 15 West Lane, Pound Ridge NY 10576.