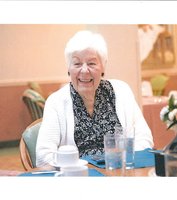 Betty M. deAraujo
Betty de Araujo, born Betty Marie Scheffler, passed away on May 25, 2019 at Hancock Hall in Danbury CT, at the age of 99.
Betty was born November 5, 1919 in Chicago Illinois, the first child of May and Carl Scheffler. She was raised in Evanston, IL, with her brother Harlan, and attended Northwestern University and then graduated from the Evanston Academy of Fine Arts. She had a long career in commercial art, particularly in fashion illustration. She also drew illustrations for a children's magazine, a Girl Scout handbook, an exercise book, and other publications. Betty also had a passion for watercolor painting, which early on included painting of barns, and later were landscape and nature themed.
In 1947 Betty married Victor de Araujo, and they had two children, Mark and Susan. In 1954 the family moved to Washington state, living 7 years in Yakima and 4 years in Seattle. Then after a few years in Michigan the family settled in Westchester County NY, when Victor became the Representative of the Baha'i International Community to the United Nations.
Throughout her life, Betty was an active member of the Baha'i Faith, organizing youth activities in the Chicago area in her younger years, and later teaching classes at Baha'i schools, giving speeches and presentations on the Baha'i Faith around the country and in other parts of the world. Betty and Victor hosted numerous Baha'i gatherings in their homes. While in the New York area, she volunteered her time with the Baha'i International Community, a non-governmental organization of the Baha'i Faith, which enjoyed consultative status with the Economic and Social Council of the United Nations. She was particularly involved in projects and conferences to promote the status of women. Both she and Victor traveled extensively to support Baha'i communities around the world and visited over 25 countries and territories.
A few years after her husband's death in 2001, Betty moved to New Canaan CT, and in 2019 moved to Danbury CT.
Betty's personal interests, in addition to painting, included gardening, swimming, and reading.
Betty is survived by her son Mark (wife Georgia) de Araujo, granddaughters Megan (husband Henry) Spadoni and Caitlyn de Araujo; daughter Susan (husband Michael) Dutton, grandsons Eric (wife Amy) Powers and Brian (wife Adele) Powers; five great-grandchildren Lucy, Carys, Nick, Delaney and Evan; nieces and nephews, cousins, and her sister-in-law.
Burial will be private.
A memorial service will be announced.
In lieu of flowers, contributions can be made to: Regional Hospice and Palliative Care, 30 Milestone Road, Danbury CT 06810