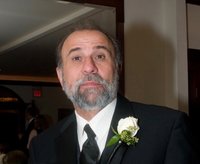 Frank Bua
Bua, Frank, 67, of Pound Ridge, NY, formerly of new Rochelle, died on Wednesday, May 22nd at Danbury Hospital.
Frank was born in Queens, NY, July 6, 1951 to the late Mary and William Bua. He was passionate about children and animals and was characterized by those who knew him as "bigger than life" and "unforgettable".
Frank is the beloved husband of Christine and is the loving father of Frank (Kendyl) of Montgomery, NY, Jennifer (Christopher) of Katonah, NY and Christopher. He is the devoted Grandfather of Sofia, Julia, Luca, Alessia and Camila Verrone and Isabella and Olivia Bua. Frank is the brother of William (Butch) Bua of Bellingham, Washington.
Friends may call at Clark Associates Funeral Home, 4 Woods Bridge Road, Katonah, NY. On Friday, May 31 from 5:00 to 9:00pm with the funeral service at 7:00pm.
Interment will be private.
Memorial contributions may be made to ASPCA at: secure.aspca.org/donate/memorial
and St Jude's Children's Hospital at stjude.org (800) 805-5856