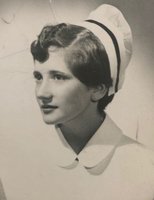 Angela Manfredi
Angela Hernandez Manfredi went to be with the Lord on May 30, 2019 at Seasons Hospice and Palliative Care in Cumming, GA. Angela lived in Cumming GA for five years, prior to that was a longtime resident of Somers, NY. She was the beloved wife of the late Ettore "Chick" Manfredi. They were married for 50 years. Angela was born in Brooklyn, NY on March 23, 1933. She was the daughter of the late Randolph and Evelyn (Healy) Hernandez.
Angela received her nursing degree from the White Plains School of Nursing. She was a nurse and supervisor at Somers Manor in Somers, NY. Angela loved shopping and vacationing at her condo in Myrtle Beach, SC.
Angela leaves behind her five children, Marianne Boutsioulis and her husband Alex of Cheshire CT, Francis Manfredi and his wife Sue of Carmel, NY, Kathy Cox of Cumming, GA, Jane Fortugno and her husband Pete of Milton GA and Kenneth Manfredi and his partner Robin Alberti of Bridgewater VT. She also leaves behind ten grandchildren, Sarah and Rebecca Manfredi, Emilia and Cassandra Boutsioulis, Sean Cox and his wife Demi, Ryan and Timothy Cox and Juliana, Peter and William Fortugno.
Angela was predeceased by her brothers Randolph (Buddy), Michael, sister Joan and son in law Stephen Cox.
In lieu of flowers, donations can be made to SPCA international, 242 W 30th St, New York NY 10001 or via their website: https://www.spcai.org/donate.