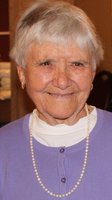 Felice Paolina Sementilli
Sementilli, Felice Paolina age 96, of Bedford Hills NY died Tuesday July 16, 2019.
Mrs. Sementilli was born in Strangolagalli, Italy on January 26, 1923.
She is survived by her daughter, Angela and her two sons, Nicholas and Michael; seven grandchildren and nine great grandchildren. A resident of Bedford Hills since 1969, Felice worked for Caldor department store as a pricing clerk.
Her interests revolved around gardening, cooking and of course whatever was occurring with her grandchildren. She was an active parishioner of Saint Mary's in Katonah NY and the teachings of Mother Angelica of the EWTN Christian Network.
The family will receive friends on Sunday, July 21st from 2:00 - 6:00pm at Clark Associates Funeral Home, 4 Woods Bridge Road, Katonah, NY. The Mass of Christian Burial will be celebrated on Monday, July 22nd at 10:00 am at St. Mary Of The Assumption Church,55 Valley Road, Katonah, NY. Interment will follow at St. Francis Cemetery, Lexington Avenue, Mount Kisco, NY.