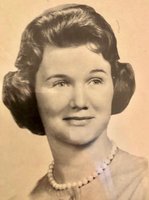 Noreen N Leary
Noreen Nolan Leary, August 24, 1931 to August 10, 2019 died peacefully at home in Brookfield, CT surrounded by her family. Noreen lived in South Salem and Katonah for more than 50 years.
Born to the late Helen and Commissioner Frank A. Nolan in Brooklyn, NY, she married Edmund J Leary in February 1951 and they were married for almost 60 years before Ed passed in 2010.
Noreen is survived by her two sons, Dan (Ellen) and Joe and her five grandchildren, Daniel, Caroline, Evan, Jillian and Griffin and many cousins, nieces and nephews.
Her daughter, Ann, pre-deceased her in 1989 as did her brothers Frank and Tom.
Noreen, always ahead of her time, began her involvement with politics as a child during her father's campaigns in the late 1930's and never lost the bug.
Noreen jumped into the business world in the 1960's and notched a series of successes selling real estate throughout Northern Westchester. She was in and out of government as well throughout her life through her retirement in the early 1990's from the City of New York.
Family and friends, especially her grandchildren, were her top priority during her nearly 88 years and she never missed an opportunity to celebrate all.
Friends may visit at Clark Associates Funeral Home, 4 Woods Bridge Rd, Katonah on Tuesday from 3:00pm to 7:00pm.
The Mass of Christian Burial will be celebrated at 10:00am on Wednesday, August 14 at St Mary's Church, 55 Valley Rd, Katonah with burial in the family plot in St Francis Cemetery in Mt. Kisco following.
In lieu of flowers please consider a contribution to the Ann Leary Finnegan Foundation c/o Joan Martabano, 19 Hayhurst Ave, Valhalla, NY 10595