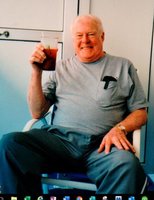 John J "Jack" Costello
John J., "Jack" Costello, 88 years of age, of Somers, NY passed away on August 26th, 2019 in Putnam Hospital with his family around him. Jack was born on August 7, 1931 in New York City to the late John and Elizabeth Costello. Jack joined the Armed Forces in 1952 and served as an MP in Germany for the Army. Following his honorable discharge, he joined the New York City Police Department in 1955 and retired in 1977. He then joined the Ruden Real Estate family. He finally retired in 2005 to a life of doing what he loved: playing golf and spending time with his family and friends.
Jack married the love of his life, Dianne (Truelove) Costello 28 years ago and traveled and enjoyed their family and dear friends in Heritage Hills for many years. Dianne's sister, Patricia and her husband, Vincent Bocchino and Jack were like brothers, which made for a wonderful foursome always.
Jack is the loving father of the late Patti Ann Calcado, Margaret Ann Costello and Mary Beth Carey (Michael) and 9 grandchildren: Mairead, Sean, Grace, Emma, Elizabeth, Thomas, James, Kevin and Jaclyn and numerous nieces and nephews. He was a wonderful grandfather, was always there for them and their memories including the many years of Santa Claus Ho Ho Ho-ing. Jack was a friend to all, a confidant to many and someone who you could always depend on for comfort, laughter and encouragement - That was Jack Costello. A wonderful kind friend and loved one.
His family will receive friends on Friday, August 30th from 3:00 pm to 7:00 pm at Clark Associates Funeral Home, 4 Woods Bridge Road, Katonah, NY.
The Mass of Christian Burial will be celebrated on Saturday, August 31st at 11:30 am at St. Joseph's RC Church,95 Plum Brook Road, Somers, NY
Interment will be private.
In lieu of flowers, memorial contributions may be made to Salvation Army or a charity of choice.