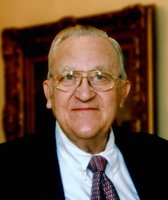 George F. Sutter, Jr.
George Franklin Sutter, Jr., was the embodiment of love, loyalty, integrity, generosity, and kindness. With his passing on September 25, 2019, at age 95, his family and his many friends lost the incomparable company of a man whose ready smile, wry sense of humor, and endlessly giving heart endeared him instantly and forever to everyone he met.
George grew up in the village of Tiro, Ohio, where he was a precocious scholar and the valedictorian of his high school class. Drafted into the Army during World War II—as he later said with typical self-deprecation, "I fought like hell but I had to go anyway"--, he was admitted to special academic training at Amherst College before heading to the European Theater and the Battle of the Bulge, for which he was awarded the Bronze Star.
After earning his bachelor's and master's degrees in Business with distinction at The Ohio State University thanks to the G.I. bill, George moved to Northwest Indiana to commence a 38-year career at Inland Steel Company, achieving his CPA and retiring in 1988 as Manager of Cost and Operations Accounting.
George would undoubtedly consider his crowning achievement, though, to have been his roles as husband to the love of his life, Peg—a devoted union that would last more than 60 years until her passing in 2015--; as father to their only daughter, Nan Alison Sutter Hayworth (Scott); and as "Gramps" to Will and Jack. He enveloped his family and friends in an infinite and unconditional love that brought joy and delight to their everyday lives and strengthened them in difficult times.
Nothing was too much to ask of George, even if you were a stranger—as a young immigrant from Iran named Mansour Karim discovered in the early 1950s as he made his way from Tehran to Sioux Falls, South Dakota, to study agricultural engineering. Starving and nearly penniless, Mansour knew he'd met one of God's angels when his seatmate on the train to Chicago took him under his wing, giving Mansour his box of sandwiches and escorting him to the bus depot for the next leg of his journey. The angel's name, of course, was George Sutter.
And now our beloved George, our angel here on Earth, has earned his wings in Heaven. As a deeply devout Lutheran, every night George recited Martin Luther's Evening Prayer, adding the names of his loved ones to ask God's protection for each of them. Today we pray, as George did for us, that the Lord will graciously keep him, and we thank Him for having given us the blessing of George's life and love.
Visitation will be held at Clark Associates Funeral Home, 4 Woods Bridge Road, Katonah, NY 10536, on Sunday, September 29, from 1 to 5 p.m., with a funeral service at 3 p.m. George will be interred with full military honors at the Oakland Cemetery in Crawford County, Ohio.
In lieu of flowers, please consider a memorial contribution to the Foundation for Economic Education, online at FEE.org or by mail at 1819 Peachtree Road NE, Suite 300, Atlanta, GA 30309.