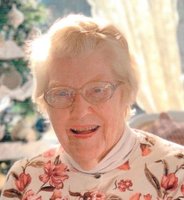 Alice F. McGowan
McGowan, Alice F., a longtime Katonah resident, died peacefully October 23, 2019. Born in Brooklyn New York (Bay Ridge, St. Ephrem's Parish) on December 2, 1926, one of five children ( Joe, Mal, Mary and Rita) to Alice and Malachi Finnen.
Alice was the faithful wife of Dr. Hugh McGowan. A devoted mother of seven (Hugh, Mary Pat, Tom, Peter, Alice, Catherine and the late Anne), grandmother of 21 and great grandmother of 2.
Alice was a pillar of strength, dignity, love and kindness. She was a devout member of Saint Mary of the Assumption Church.
The family will receive friends on Friday, October 25, 2019 from 5:00 - 8:00 pm at Clark Associates Funeral Home, Katonah, NY. The Mass of Christian Burial will be celebrated on Saturday, October 26, 2019 at 11:30 am at St. Mary Of The Assumption Church, 55 Valley Road, Katonah, NY. Interment will follow at St. Joseph's Cemetery, Route 100, Somers, NY.