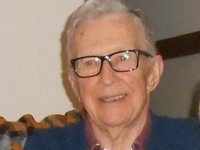 Robert Henry Holmes
Holmes, Robert, H., "Bob" 90 of South Salem, NY died Monday June 15th 2020 at home.
Bob was born on May 2nd 1930 in Flushing, NY to the late Solveig and Robert Vincent Holmes.
Bob was a U.S. Army and Air force veteran from 1947-1955. He served in the Korean War.
Bob went to high school in Queens NY. Before the Army Bob was a stock clerk for Saks Fifth Ave
in NYC. After the war Bob worked for Howard Holmes Volkswagen in Elmsford, NY. He also worked
for Servisoft Company in Elmsford, NY. Bob became the proprietor of Water Treatment Services in
Bedford Hills, NY for many years and retired in 1996.
Bob enjoyed playing hockey in the 1980's and held the position of goalie on his team that practiced
and competed at the Harvey School Rink. He enjoyed Jazz and had fond memories of seeing the
big bands in NYC in the late 1940's. Bob was well loved by his neighbors and would socialize on his
daily walks throughout the neighborhood.
Bob is the beloved husband to recently deceased Violet M. Holmes. They were married for 64 years
and residents of South Salem for 50 years.
Bob is the loving father of Robert Jr. (Nora) of Lakeville, CT, Nancy (Stephen) Doyle of Wappingers Falls, NY, Susan (David) Rotondi of Concord, NH. He is the devoted grandfather also known as "Bubba" to Douglas, Connor, Liam, Kayla, and Alison. Bob was preceded in death by a sister Carole Holmes. Bob is the brother to Marjorie Wassmer
of Hawley, PA, and is also survived by a nephew Daniel Wassmer.
Due to Covid a private memorial service is planned in July. Memorial contributions may be made to Rock N' Rescue
PO Box 86, South Salem, NY 10590 or by visiting their website: rnrpets.org