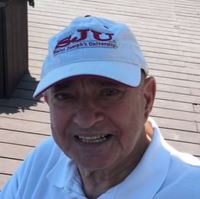 Michael W. Debany
Michael W. Debany - Age 88
Mike was a resident of Katonah, NY for 40 years. He died peacefully at his home of 20 years in Somers, NY on June 13, 2020 surrounded by his wife and loved ones.
He was born on February 7, 1932 in Tuckahoe, NY to Tewfik and Josephine Latella Debany.
Mike is survived by his loving wife and best friend of 72 years, Joan P. Debany, his children and their spouses: Deborah, Michael Jr. (Susan), Walter (Kendra), and Susan (David). His son, Steven, predeceased him in 2005. He is also survived by four grandchildren: Brooke, Michael III, David, Jr., and Trisha and four great-grandchildren: Grace, Briar, J. Parker, and Mia. Nothing brought Mike greater joy than spending time with his family.
Mike graduated from Eastchester High School in 1950 and Fordham University in 1954. While attending Fordham, Mike was one of the most prolific tennis players in their history compiling a remarkable 89-1 record in his four year career. He was named team MVP in his junior year and again as a senior but declined the award in order to recognize a teammate for his accomplishments. In 2013 he was inducted into the Fordham University Athletic Hall of Fame.
Upon graduation from Fordham, he was commissioned as a Second Lieutenant in the Army in the anti-aircraft artillery, served in Battery A, 98th AAA Gun Battalion and later commanded the camp in Nutley, NJ.
After retiring from a long and successful career with the IBM Corporation, Mike went on to start Woodlot Homes, Inc. and Bedford Inspections. He also served on the local residence boards of his condominium communities in Somers, NY and Ocean City, MD where he enjoyed family vacations at their beach home.
In lieu of flowers, donations can be made to Hospice Care in Westchester and Putnam located at 540 White Plains Road, Suite 300, Tarrytown, NY 10591 (914/666-4228).
A private funeral mass will be held at a later date.