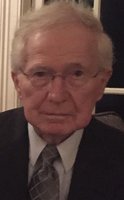 Gerald Joseph "Jerry" Karas
Gerald ("Jerry") J. Karas passed away peacefully in his sleep 19 days shy of his 94th birthday with his wife of 72 years, Doris, by his side in his beloved home in Pound Ridge, NY, that he and his sons built over 50 years ago.
Jerry was born in Queens, NY in 1926 and spent his childhood with his mother Margaret in Queens and his father Michael in Tarrytown, NY. His was not the easiest childhood, but many childhoods during the Great Depression were not easy. In 1942, with World War II for the United States just getting underway, as a 16 year old, he enlisted in the United States Army. His mother somehow got wind of it (mother's have a knack for that!) and did her own march down to the enlistment center and made it clear he was under age and she did not approve. However, a year later when he was 17, she consented to him joining the United States Navy.
The United States Navy, like the Armed Services did for so many young men of "The Greatest Generation," set the course (it was the Navy, after all!) of the rest of his life. After completing electrician's school he was then ordered to the USS Kitty Hawk, AKV-1, sailing out of Alameda, CA, its mission to resupply US Navy carriers and Marines with fresh required for each new battle in the Pacific. He ended the War as a Petty Officer (Second Class). The skills he developed, and the discipline he learned, formed the foundation for the rest of his life.
Towards the end of the War, at home on leave, he went to a USO "Canteen" and met a pretty young lady from Queens, Doris Erath. They hit it off but delayed their wedding until he completed active duty, and in 1947 they were married. Several years later their first son, Ken was born, followed by Keith and Kris.
After the War Jerry worked briefly as an electrician in the Brooklyn Navy Yard, then as the chief maintenance electrician at Coney Island Hospital. Jerry had begun working for the electrician's union as an instructor in their apprentice program, which lead him to decide to go to college to acquire his teaching credential so he could become a vocational high school teacher. He spent many years helping a large number of young people become electricians, of whom he was very proud. Later in his career he completed his college degree and became an assistant principal at J. M. Wright Technical School in Stamford, CT, from which he ultimately retired.
Jerry served as a member of the Pound Ridge Volunteer Fire Department for a number of years and was the fire inspector, a role which he took very seriously.
In his later years Jerry enjoyed driving his beloved Mercedes, with his bride beside him, plowing the driveway with "Snowy" the snow blower, starting the generator when the power went out on the cold, windy nights and bringing the glow of lights and the warmth of heat back to the home, cutting his lawn, and, when Doris was not looking, climbing onto the roof to clean and repair gutters.
Jerry delighted in his grandchildren from Ken and Katie - Kris, Rob (Annie) and Bryan (Leslie), from Keith and Patty - Lauren, Scott and Greg, from Kris and David - Joe and Charlie, and his great grand children Harper and Mason (Bryan and Leslie).
A graveside service will be held at the Pound Ridge Cemetery on Friday, July 31, 2020 at 2:00PM. In lieu of flowers, please send donations to Pound Ridge Volunteer Ambulance Corps. PO Box 237, Pound Ridge, NY 10576 or visit PRVAC.org for online donations.