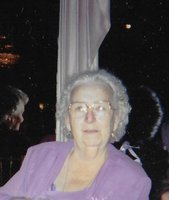 Margaret K. "Tommie" Norton
On September 3, 2020 Margaret K. Norton passed on to join her sisters, Alice and Jean, brother Bud, son-in-law George, and the rest of her family that had gone before her.
Tommie,Margaret's childhood nickname that carried through her entire life but only used by those closest
to her was born on June 14, 1933. She grew up and remained in Lewisboro NY. She was
raised during hard times right after the Great Depression when it was a necessity that every
able family member work, help each other out, and stay close.
This is why it comes as no surprise that family was the most important thing in her life. She had many stories and
memories growing up that one would be lucky to hear. Like one day during her childhood while
riding Old Dan, her father's work horse, a boy named Herbert Norton drove by. This was his
first time laying eyes on her. Little did they know they would marry and spend the rest of their
lives together eventually celebrating 69 anniversaries.
Her family grew, having a daughter Alma and a son Kevin, raising her kids next door to her parents and sister and their families.
She had spent many years working for Katonah-Lewisboro School district, starting as a bus driver and
retiring as head dispatcher.
She always enjoyed time spent with her family, including playing softball on her family's team the 10-4s. Her position was short stop and her sister's was second base. Between the two, not many balls got by them.
Every holiday and birthday was celebrated with an ever growing family. She selflessly spoiled and took care of the
younger generations as they came along.
Her generosity, love, and nurturing blessed all her family members.
She has taken a piece of all our hearts along with her, but not left it empty for she gave us all a piece of hers to carry on with us.
She will be loved and dearly missed but live on through her husband Herb, daughter Alma Georgalos, son Kevin Norton and many many neices and nephews.
A memorial will be planned sometime in the future.