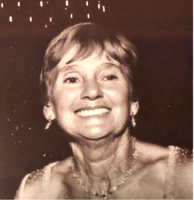 Patricia Rinaldi
Patricia Rinaldi, a longtime resident of Katonah, died on September 13, 2020, after an illness. She was a loving wife, mother and grandmother who was exceptionally devoted to her family. Patricia had a mighty strength of character and spirit. She lived her life with grace and kindness. Her family will always remember her immense love and support, beautiful smile and sparkling wit.
She was born on March 11, 1937, to John Fox and Dorothy Wilmot Fox. The family lived in London where Patricia was educated in Catholic schools. After graduating, she worked in publishing at Geoffrey Bles Limited in London.
Patricia emigrated to the United States in her early 20s and later became an American citizen. In New York, she met Franco Rinaldi--who came to the US from Italy--when they both worked at Olivetti Corporation. They married on July 6, 1963 and celebrated their 57th anniversary this year. Patricia dedicated herself to raising their three children. While Patricia was a city girl at heart, she loved Northern Westchester and its peace and tranquility.
Patricia was an avid reader all her life (her sister says she was reading Charles Dickens at the age of six). She had a keen intelligence and was once a Jeopardy contestant in the 1970s. She enjoyed and appreciated all the arts, including theater, opera, ballet and all kinds of music. She was a travel buff and she and Franco spent many summers in Europe. Most of all, she was happiest spending time with her beloved family, who adored her.
Patricia is survived by her husband Franco; daughter Lydia Rinaldi; daughter Julia Stejskal and son-in-law Robert; son Gregory Rinaldi and daughter-in-law Alyson; grandchildren Andrew Stejskal and Arianna Rinaldi; sister Margaret Cullen and her family. She was preceded in death by her brother Raymond Fox.
A private, family-only wake will be held at Clark Associates Funeral Home in Katonah. The mass of Christian burial, limited to family, will be celebrated at St. Joseph's Roman Catholic Church in Somers on September 17.
In lieu of flowers, please consider a donation in Patricia's name to your charity of choice or to UNICEF.