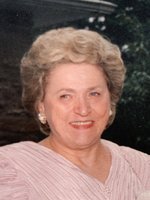 Irene M Cirillo
Irene M. Cirillo, passed away peacefully in her sleep on October 13, 2020. Born Irene Mary Mitro in Queens, NY on December 31, 1932, she was raised by her parents Mary and John Mitro, who immigrated to the U.S. from what was formerly known as Czechoslovakia.
In her youth she was always a top student and excelled in mathematics and geography. She went on to marry Nicholas W. Cirillo, who pre-deceased her, and ran the household consisting of four very energetic children. She had a true passion for helping others and was an active volunteer her entire life, beginning with her involvement on numerous school boards and religious organizations, to the charitable causes she passionately supported. Irene was involved in many artistic ventures and had a true talent for creating beautiful crafts, including beading, knitting, and crochet. In her later years, she donated immeasurable hours stitching baby bonnets and blankets and prayer shawls for the terminally ill. She led a full life of service to others and will be dearly missed.
Her legacy lives on with the joy of her family. She is the loving mother of Donna Cirillo Wright (Kenneth) of Wexford, PA, Gregory (Lisa) Cirillo, of Rockville, MD, Nicholas (Marianne) Cirillo, of Darien, CT and Paul (Laura) Cirillo of Port St. Lucie, FL. She is the devoted grandmother of 9; Daniel (Holly) Wright, Caitlin (Adam) Fink, and Christian, Zachary, Nikolas, Thomas, Melanie, Jeffrey, and Ryan Cirillo, along with one great-granddaughter, Eliana Wright. She is the sister of Edward and Joyce Mitro of Lancaster , PA and is also survived by numerous nieces and nephews.
A Mass of Christian service will be held at St. Joseph's Catholic Church, 95 Plum Brook Road, Somers, NY on Wednesday, October 21, 2020 at 10AM.
Interment services will be privately held.
In lieu of flowers, donations may be made in Irene's memory to the Alzheimer's Foundation. https://act.alz.org/