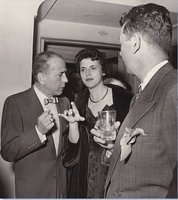 Rosemary Mankiewicz
Rosemary Mankiewicz died peacefully at home on 20th October 2020.
She was born November 9, 1929 in London, England to Hubert Matthews, an archdeacon, and Kathleen Cawthorne Matthews, an eye surgeon. After a childhood in the shadow of WWII, she attended Central School of Drama and went to work on films in Italy. Fluent in Italian, she was hired to be a dialect coach for The Barefoot Contessa, directed by Joseph L Mankiewicz. She went on to work as production assistant on his subsequent films and in 1962, after Cleopatra, they married.
In the 1970s, they made their home in Bedford where Rosemary was involved in the life and activities of St Matthews, Bedford Garden Club, and Bedford Golf and Tennis Club, becoming the first woman elected to the board of directors of the latter. Golf was a passion she'd picked up on childhood holidays on the English coast. In NY she joined the WMGA and over the years organised French-American tournaments, served as president of the organisation, rated courses, was invited to join the USGA as NY representative, and in 1997 received the Judy Bell Award. As with everything in her life, she threw herself into it all with calm, diligence, curiosity and humour.
Hollywood was never far away. In the last couple years of Joe's life, the couple continued to travel to film festivals and Rosemary was a consummate host and friend to guests from near and far.
After Joe's death in 1993, Rosemary moved to Katonah. She travelled widely - to Russia, Namibia, China, Chile, the Galapagos, Spain to visit her sister, Zimbabwe and South Africa to visit her brother who had lived in Africa since WWII. For 15 years she spent the winter months with her daughter in Australia.
The last few years Rosemary lived peacefully in Connecticut, lovingly cared for by Theresa Adatsi. Her love of adventure and fun was ever-present to the end.
She is survived by her daughter, Alex Mankiewicz, of Byron Bay, Australia.