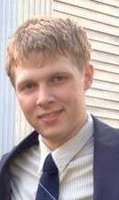 Scott Alexander "Sandy" Medla
Scott "Sandy" A. Medla, age 30 , died suddenly at his home in North Salem. He is remembered by his parents, Scott and Linda Medla, and his extended family and friends.
Sandy attended North Salem schools and was a member of St. James Episcopal Church. He was a graduate of the Class of 2009 and a member of the Varsity Lacrosse team. He also was a member of the Lewisboro Swim and Dive team. Sandy majored in English at the University of Rhode Island and also attended the University of Colorado Denver.
Colorado was Sandy's adopted home for several years. He loved the outdoors and was an avid snowboarder. He enjoyed hiking and camping in the Rocky Mountains. But Sandy's primary passion was music. In addition to playing the guitar and piano, he composed music and attended concerts in his spare time. He loved reading and usually was deeply engrossed in a book or two. Sandy was a free spirit who will be remembered by his family and friends for his compassionate and loving nature and his generous spirit. He was fiercely loyal and would drop everything to help a friend in need. Material things meant little to him; he valued friendships and connections with people from all walks of life. As soon as he made an acquaintance, he would quickly add that person to his wide circle of friends.
There will be a private service at St. James Episcopal Church.
In lieu of flowers we ask that donations in his memory be made to the North Salem Ambulance Corp. at P.O. Box 427, Croton Falls, NY 10519 or a memorial tree be planted in one the National Forests in Colorado through alivingtribute.com