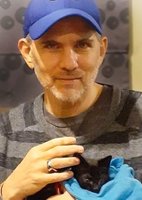 Thomas R. Thyne, Jr.
Thomas "Tommy" R. Thyne, Jr. passed away Wednesday, December 9th, 2020 in Lima, Peru at the age of 50. He was born on June 9, 1970, in Yonkers, NY.
Tommy loved animals and cared greatly for the environment. He knew that both needed our love and support in order to leave this world a better place for all. His passions were music, especially rock, and playing the bass guitar. Tommy's favorite group of all time was the Beatles and it was this group that had a profound influence on his life. He loved to travel and had lived in various places including Columbia, New Hampshire, Washington, and most recently, Peru. Tommy connected with people from all walks of life and would make them a part of his own. His compassion for those in need motivated him to study nursing. He graduated from nursing school with honors in 2005.
Tommy is survived by his mother Janyce Cimarelli and her husband Tom; father Tom Thyne and his husband Peter Timpano; brother Eric Thyne and his wife Hannah and their son Lloyd; sister Liz Thyne; step-sister Lizzie DeLoach and her husband Michael and their son Zachary; Aunt Joann Thyne; cousins KC Thyne, Rebecca McKenzie and her husband Rich, Billy Thyne, Mickey Repko and his wife Kristen; girlfriend Rossmery Orihuela Julcarima; former wife, Gloria Santa Restrepo; and by second and third cousins, and friends.
Tommy was predeceased by his grandparents, Mema & Popop DeLuccia; grandmother Nanny Thyne; Aunt Carole Donegan; Uncle Bill Thyne; Aunt Valerie and Uncle Michael Repko.
A memorial service will held at Clark Associates Funeral Home, 4 Woods Bridge Road, Katonah, NY. on Saturday, April 17th, from 1:00 to 4:00pm
In lieu of flowers, memorial donations may be made to the Memorial of Thomas R. Thyne, Jr at People for the Ethical Treatment of Animals (PETA): https://memorials.peta.org/23/true-friends-memorials/96345/thomas-r.-thyne-jr.. or by calling PETA at 757-622-7382.