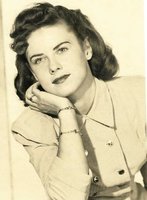 Marion D. Allen
Marion Dorothy Allen (nee Pratt) of North Salem , NY passed away peacefully at the age of 94 years old on December 17, 2020.
Marion was born on July 10, 1926 and spent her childhood in New Rochelle, NY.
During WWII she attended the College of William and Mary in Williamsburg, VA and became a member of the Gamma Phi Beta Sorority. She moved back to New Rochelle, NY and married William B. Shriner (predeceased) whom she had met in first grade. A few years after marriage they moved to North Salem, NY and raised their five children there.
She was a house wife, girl scout leader, avid reader, enjoyed playing Bridge, and studied to improve her mastery of the French language for many decades. She loved to sing, especially in her church choir. Marion was a crossword puzzle enthusiast, always working on multiple puzzles at a time.
For many years she wrote a column for the county newspaper, The Patent Trader. Through the "Candlewood Park Notes" the Candlewood Park neighborhood was informed about all the latest important and day to day social happenings.
She was sentimental and sweet and would often saved personal memorabilia and share them later with family. Her collection includes birthday cards that span 75 years.
In her adult years she was an enthusiastic fan of the game of Tennis. It didn't matter if she was on the court, watching a tournament on TV or attending the US Open with her grandchildren and great-grandchildren. She was always ready to be part of the game. In recent years she couldn't stand well enough to play table tennis with her grandchildren so she learned to play while sitting in her chair and she still managed to beat them.
She enjoyed competition so much that after she was forced to use a walker, she became good at the indoor sports Wii Nintendo games. If you'd challenge her to a game of Wii Bowling ......you'd lose !
She was a fan of IPA ales/beers and a good burger. She tried her hand as a Realtor. She volunteered her time helping at a local Hospice office. She loved watching Jeopardy and a day couldn't go by without her favorite Soap Opera General Hospital.
She overcame many difficulties and medical battles throughout her life including cancer multiple times and even more recently surviving COVID. Being such a strong fighter she earned the nickname, The EverReady Bunny, as she astounded medical professionals and family by overcoming the odds and she "just. kept. going."
We pray that all her struggles have now come to an end as she rests in peace in the arms of Our Lord, Jesus Christ.
Survived by her daughter Bonnie and husband David Matthews of Bradenton, FL, daughter Virginia and husband Marc Albanese of Ithaca, NY, daughter Eleanor Ferrario of North Salem, NY, daughter Dorothy and husband Donald Fiacco of Katonah, NY and son William B. Shriner II of North Salem, NY. She is also survived by 8 grandchildren and 19 great-grandchildren.
A Methodist minister will perform a private graveside prayer service at the Wooster Cemetery, 20 Elsworth Avenue, Danbury, CT at 11:30 on Tuesday December 22, 2020. In lieu of flowers please send a donation in Marion D Allen's name to Samaritan's Purse at www.samaritanspurse.org