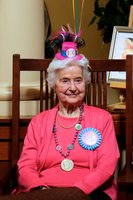 Susan Lordi
Susan (Sue) Lordi was born on September 4, 1917, to Luigi and Fermina Passardi, in Stafford Springs, CT. The third of seven children, Sue enjoyed a busy and happy childhood. She spent her time helping her parents plant and harvest vegetables in the family's garden, as well as helping to care for her younger brothers and sister. For fun, Sue and her siblings swam, played outdoor games, and put on plays in their make-shift theater. As a teenager, Sue held part-time jobs as a hospital volunteer, a waitress, and as a hostess at the Hartford Golf Club.
At age 17, Sue moved to "The Big City" - New York - where she secured a full-time job as a hostess at the famous Stouffer's Restaurant in midtown Manhattan. Sue enjoyed life as a single woman in NYC and went on many vacations with her female friends until she met the love of her life, William John Lordi. Sue and Bill married in 1956, and the next year welcomed their son, Bill. The three Lordis traveled extensively - to Italy, Mexico, Hawaii, Florida, Michigan, California, and to local sites in and around New York. The family belonged to the New York Athletic Club, where Sue and her husband Bill met many wonderful people and attended many enjoyable parties and events. Sue and her husband bowled in the NYAC bowling league, with many trophies to show for their efforts. Sue was also an avid swimmer, and enjoyed swimming at the NYAC pool at Travers Island, the Atlantic Club in New Jersey, as well as at the beach in Spring Lake, NJ. Sue also kept busy by volunteering at her son's grammar and high schools, and later, working at several NYC department stores, as well as at the Metropolitan Museum of Art Gift Shop.
Sue's beloved husband Bill passed away in 2007, and a few years later, Sue moved into Yorktown Assisted Living. While there, she made many new friends and participated in a wide variety of activities, such as art projects, singing concerts, "Movie Night", and "Casino Night". She also attended many holiday parties and friends' birthday parties. In 2020, Sue moved a block further down the road to Yorktown Rehabilitation and Nursing Center, where she made more new friends and warmed many hearts. Sue passed away peacefully on Christmas Day, 2020, at the age of 103.
Sue is survived by her son Bill, his wife Marianne, granddaughters Diana and Christina, brothers Leo and Charlie, and many nieces, nephews, grandnieces, and grandnephews.
Christian burial for Susan Lordi took place on Tuesday, December 29th, and was privately attended.
In lieu of flowers, donations in Susan Lordi's name may be sent to St. John of God Community Services. This charity serves children and adults with disabilities, and their website is below: