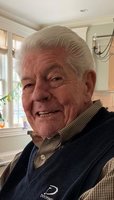 Eugene K. O'Shea
Eugene Kevin O'Shea
Eugene K. O'Shea, 88, passed away peacefully on December 29, 2020.
Gene, as he was known, was born on August 26, 1932, in Bronx, New York, the youngest son of Denis O'Shea and Esther (Foley) O'Shea. Gene attended St. Frances of Rome Grammar School and Mount Saint Michael High School. He attended College of the Holy Cross on a basketball scholarship, before entering the United States Navy. Gene earned his bachelor's degree from Iona College, and a law degree from St. John's Law School, where he met classmate and love of his life, Mary Eileen Shea. The two married on October 7th, 1961. Gene and Eileen raised their three children, Regina, Maura and Gene Jr. in Bedford Hills, New York. Most recently, Gene spent his time in Somers, New York, Palm City, Florida, and at his beloved weekend retreat on Hunter Lake in Parksville, New York.
Gene spent the majority of his professional career as general counsel of American Ultramar/Ultramar Plc, a British energy concern. He was elected to the company's Board of Directors in 1975, serving until his retirement in 1991. A fierce but patient negotiator and dealmaker, Gene's travels took him around the world many times over.
An avid sportsman and fan, Gene was a member of Piper's Landing Yacht and Country Club, the New York Athletic Club, and until recently, Mt. Kisco Country Club.
While achieving enviable career success, Gene's main focus was always his beloved (extended) family and the fellowship of his vast network of friends. Gene's generosity was renowned and boundless. An unmatched gift-giver, never did he return from a business trip without a curiosity from foreign lands for Eileen and his children. He continued to shop and wrap gifts for each of his ten grandchildren after the untimely passing of Eileen in 2009, never missing a birthday or Christmas. Humility was Gene's trademark and most of his kindness was done without fanfare. Cheerful to the end, his unique combination of strength, kindness and loyalty, along with his unwavering faith, remain inspirational to all who had the pleasure to know him. Gene loved his family and friends and he was loved enormously well in return.
Gene is survived by his three children Regina Cheever (Charles), Maura Devey (Matthew) and Eugene O'Shea, Jr. (Keri); and ten grandchildren: Dennis, Bridget and Brian Devey; Helen, Hope and Emmett Cheever; Shane, Francoise and Lila O'Brien and Eamon Eugene O'Shea.
The Mass of Christian Burial will be celebrated at 10:00am on Saturday, January 2nd, 2021, at St. Joseph's Church, 95 Plum Brook Road, Somers, New York. Interment will be private.
In lieu of flowers, contributions may be made to the Veterans Administration at Hudson Valley Healthcare System, Montrose Campus, Attn: Voluntary Services, 2094 Albany Post Rd., Montrose, NY 10548 (checks payable to: VAHVHCS). https://www.pay.gov/public/form/start/46646309/