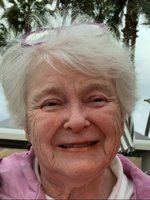 Valerie Sirignano
Valerie Orcutt Sirignano, formerly of Somers, passed away on January 1, 2021. Valerie was the wife of the late Raymond Sirignano, who predeceased her in 2017. She was 79.
Valerie was born in Yonkers to Ethel and Charles Orcutt, Sr. Valerie was predeceased by her parents, as well as her brothers Charles, Jr., and Warren.
Valerie is survived by her loving daughter Tina Sirignano-Ross and her son-in-law Jeff. She was affectionately known as 'G' to her three adoring grandchildren, who were her best friends.
Valerie was a teacher at St. Lawrence O'Toole School in Brewster, as well as Bedford Village Nursery School. Teaching was more than a job to her; it was a passion and she took every opportunity she could to teach something new to her grandchildren. Valerie was an avid reader, she loved a good crossword puzzle or a game of scrabble, exploring new places, and walking on the beach. However, her most cherished times were spent playing canasta with her grandchildren.
Services will be private.
Contributions can be made in Valerie's honor to the Regional Hospice Center for Comfort Care & Healing in Danbury, Connecticut at www.regionalhospicect.org