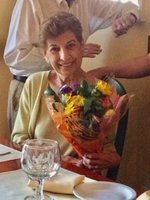 Anne Marie Nappi
Anne Marie Nappi (née Corsi), 87, of Somers, NY died Monday, December 21, 2020 at her home in Somers.

Anne was born on April 18, 1933 in Mt. Kisco, NY to the late Henry and Antoinette Corsi.

Anne worked for a short while at the Grand Union as a Secretary before leaving to start a family. She was a Third Order Franciscan and devout Catholic. She was part of the Prison Ministry for a number of years and also assisted in a few Midnight Runs to go down to New York City to give food and clothing to the homeless. She was a member of the Katonah Women's Civic Club and volunteered at the Katonah Thrift Shop. Anne was a supporter of St. Judes Children's Research Hospital and Make-A-Wish Hudson Valley.

Anne is the beloved wife of Mariano (Mud) Nappi and the loving and devoted mother of John (Karin) of Wingdale, NY, Ivana Kellaher of White Plains, NY, and Carla (Brian) Whitley of Virginia Beach, VA. She is the doting Grandmother of Kristy (Justin) Quinn, Taylor & Danielle Nappi and Augustin Kellaher also two great grandchildren, Jax Ryan and Hayden Rose Quinn.

Anne is predeceased by her husband of 63 years and two brothers and one sister. She is survived by her brothers Henry Corsi of Valhalla, NY, Joseph Corsi of Palm Coast, FL, and three sisters, Helen Cedrone of Waterbury, CT, Mary Disador of Thornwood, NY and Frances Newman of North Salem, NY and several nieces and nephews.

A mass of Christian Burial was celebrated on Wednesday, December 23, 2020 at St. Joseph's Church in Somers, NY. Interment will follow at a later date.

Memorial Contributions may be made to the following:

Make-A-Wish Hudson Valley, 832 S. Broadway, Tarrytown, NY 10591 and/or
St. Jude Children's Research Hospital, 501 St. Jude Place, Memphis, TN 38105. You may also go to St. Jude's website and donate. Please include our mother's name, Anne Marie Nappi and the email address of Carlacat66@hotmail.com and address of Carla Whitley, 1821 Fury Way, Virginia Beach, VA 23456.