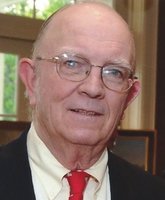 Thomas H. Meyer
Thomas H. Meyer , a long time resident of Bedford Hills, died peacefully in his sleep on February 11.
Tom was born on May 5, 1941 in New York City. He was predeceased by his parents, Henry von L. Meyer, Jr. and Isabelle Heins Meyer, and his brother, Henry von L. Meyer, III. He spent his childhood years on Cobblestone Farm in Suffern, NY and summers with his family in Wainscott, Long Island.
Tom attended Middlesex School in Concord, MA, and graduated from Denison University in 1963. He had a distinguished career as an investment advisor working on Wall Street and then White Plains for the Bank of New York.
Tom and his wife Betsy moved to Bedford in 1968. Tom was passionate about nature his entire life, and, shortly after retiring, he was able to devote much of his time to birdwatching. Many will remember Tom for the hundreds of bluebird houses he put up and monitored around our community, helping to restore the population to what it is today.
An avid sportsman, Tom particularly loved fishing. For many years, he coached his sons' Little League teams, and, even after they went on to boarding school and college, rarely missed one of their games (whether it be baseball, lacrosse or hockey).
He was a member of St. Matthew's Episcopal Church and the Bedford Golf and Tennis Club.
In addition to his loving wife, Elizabeth Catron Meyer (Betsy), of 57 years, he is survived by his children, Thomas H. Meyer, Jr. of Johns Creek, GA, and William A. Meyer (Joann) of Pound Ridge. He adored his four grandchildren Katie, Trip, Grant and Henry.
A celebration of his life will be held at a future date. In lieu of flowers, donations in Tom's memory may be made to St. Matthew's Episcopal Church (P. O. Box 293, Bedford, NY 10506) or the Mount Kisco Interfaith Food Pantry (P. O. Box 834, Mt.Kisco, NY 10549)..