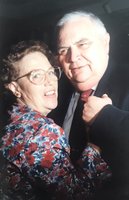 Jean B. Vuotto
Jean B. Vuotto,
Lifelong Katonah resident Jean Bridgit Vuotto died peacefully, surrounded by her family and loved ones March 21 at her home She was 88 years old.
Mrs. Vuotto was predeceased by James Herzberg of Katonah and Michael Vuotto of Katonah. She and Michael were the parents of Joseph and grandparents of Kelly, also of Katonah.
Born in Queens in 1932 to John and Ellen Slavin the family moved to the Bronx before settling locally on The Hopkins Farm property (now Muscoot Farm). A graduate of Saint Mary's High School in Katonah, Mrs. Vuotto worked until her retirement as a teller at Chase Manhattan Bank in Mount Kisco and Bedford Hills. She and Michael later owned Phelps Pharmacy in Katonah.
Those who knew her said their beloved mother, grandmother and friend had the ability to look out for other people's best interests, even if she just met them. She will be dearly missed by those who knew and loved her.
Her family will receive friends on Friday, March 26th from 9:00 am to 10:30 am at Clark Associates Funeral Home, 4 Woods Bridge Road, Katonah, NY,
At the conclusion of the visitation, The Mass of Christian Burial will be celebrated also on Friday, at 11:00 am at St .Mary Of The Assumption Church, 55 Valley Road, Katonah, NY.
Interment will follow at Mount Calvary Cemetery, 575 West Hillside Avenue, White Plains, NY.
In Lieu of flowers contributions may be made in Mrs. Vuotto's honor to:
The Katonah Volunteer and Exempt Fireman's Benevolent Association, 65 Bedford Road, Katonah NY 10536
or The Steven Siller Tunnel to Towers Foundation, 2361 Hylan Blvd., Staten Island NY 10306.