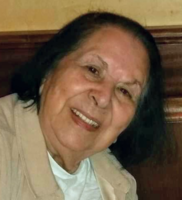 Gloria Dooley
Gloria Hortense Dooley (8/14/1927-3/23/2021) 93, died peacefully in her sleep. She was born in Camagüey. Cuba, to Antonio and Candelaria Ruiz Guerra.

Gloria led an intriguing life. At 12 she came to the US to live with her siblings. At 18 she became a New York model and lived in a boarding house. Here she met a WWII vet, John E Dooley, 12 years her senior, on a blind date. They married a year later. Together they raised 5 adopted children of different nationalities: American, Northern Italian descent, Southern Italian descent, Northern Cheyenne Indian, and a baby boy born in Hong Kong. They moved 8 times including to Bedford Hills with her last home in Lagrangeville, NY.
The children had an active childhood. They learned to swim, play tennis, go horseback riding, and ski. They took trips to Lake George, the Poconos, Puerto Rico, and Mexico. Their most memorable adventure was a 1972 trip across the US exploring national parks and historical sites.
In 1975 Gloria fulfilled a lifelong goal to earn a college degree with a BA in Psychology from Briarcliff College. She taught Spanish to 7th and 8th grade students before becoming a real estate agent.

Gloria is survived by Roberta Ann (son, Nathaniel), Janet Leigh Whalen (sons Timothy (Megan) and Corey (Danielle and great grandchild Everleigh Rose), Teresa Kogut (Alan with children Emily, Rachel, Andrew, Veronica), William John (Joan) and nieces Myrna and Sylvia.

Welcoming Gloria to the afterlife is her late husband John, Cathleen B Dooley, Paul V Dooley (Mildred), Paul V Dooley II, Yola and Benny and her many beloved mutts.

Gloria lived through life's challenges of a widow at 57, losing her oldest child, surviving lung cancer, knee replacement, and vertigo. And yet, these trials only made her independent spirit stronger and never let her optimism waiver.

A private service will be planned later this year.