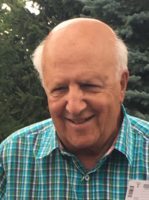 Louis Crocco Jr.
On Monday, March 29, 2021, Louis Crocco Jr., loving husband, father, grandfather, and great-grandfather, passed away at the age of 91.
Louis was born on July 8, 1929 in New York City to Louis Sr. and Ida and was the youngest of two boys.
He spent the majority of his career working amongst pioneers in the computer programming industry at Rockefeller Center and had a great view of the famous Rockefeller Christmas Tree from his office window.
On October 4, 1953 he married Josephine Basso. They raised two sons, Ronald and Stephen.
Often referred to as Lou, he was born with a rare degenerative eye disease, Retinitis Pigmentosa (RP), which would cause him to retire early and ultimately lose his sight. However, it never got in the way of his passion for various hobbies, which included photography, traveling, bridge, reading and cooking. He particularly loved to bake bread and his various recipes will live on long through his family. He loved baseball and would share stories of visiting the Polo Grounds when he was a boy; and loved the New York Yankees.
He was known for his sharp mind, sense of direction, amazing memory, kindness and at times, stubbornness.
Louis is proceeded in death by his father, Luis Sr., mother, Ida and brother, Joseph.
He is survived by his wife, Josephine, his two sons Ronald and Stephen (Susan), grandchildren, Stacey (Joseph), Jacqueline (Ben), Ronald Jr., Erica (Matt), Louis (Veronica) and Stephanie (Scott), great-grandchildren, Joey, Nora, Kyla, Benjamin, Pearl, and Lyla.
A Memorial Mass will be held on Saturday, May 1, 2021 at St. Joseph's Church, 95 Plum Brook Road, Somers, NY.
In lieu of flowers, donations may be made to: Foundation Fighting Blindness, https://www.fightingblindness.org/