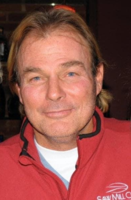 Steve "Charlie" Owens
Steve "Charlie" Owens, 72, of Goldens Bridge, NY formerly of Citronelle, Alabama,
passed away on Thursday, April 1st 2021 at his home in Goldens Bridge.
Steve was born on October 11, 1948 in Citronelle, Alabama to the late Sidney and Vera Owens.
Steve was a graduate of The University of Alabama where he played football and tennis.
He was a devoted 'Bama football fan - "Roll Tide". He was one of the original tennis pros at The Nick Bollettieri Tennis Academy in Florida. He later moved to New York and continued his career of teaching tennis for many years,
most recently at the Saw Mill Club, Mount Kisco, NY.
Steve is the beloved husband of Sheelah Hyland and is the loving step-father of Ashley Bilger (David) and step-grandfather of Ben, of Houston, TX. Steve is the brother of Sherry Dismukes, of Humble, TX
.
There will be a memorial in his honor in the summer 2021. Memorial details to be announced.
Memorial contributions may be made to The City Parks Foundation - https://cityparksfoundation.org/give/