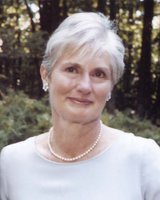 Cynthia H. Rigas
Cynthia Haver Rigas, 83, beloved wife, mother, sister, nana and aunt, passed peacefully at her home on Easter Sunday, April 4, 2021, having spent the previous weeks surrounded by family and friends.
Cynthia was born on September 21, 1937 in Kingston, NY to the late N. LeVan Haver and Jacquelyn Monroe Haver. After graduating from Middlebury College in 1959 with a degree in History, she began her career with American Field Service, where she deeply enjoyed helping children discover new cultures through shared family experiences. Her time with AFS sparked a love of travel that would continue throughout her life.
On September 9, 1967, she married her true love, Frank G. Rigas. They spent 28 beautiful years together in the Town of Pound Ridge before Frank's passing in 1995. Always incredibly active in the local community, Cynthia served as a member of the Board of Education, on the PTA, as Director of the Town Recreation Department, on the Pound Ridge Library Foundation Board, the Town Open Space and Land Conservation Committees and as a loyal member of the Pound Ridge Community Church, singing in the choir and playing the bells.
An avid reader, when she was not devouring the New York Times or the New Yorker, she could be found pacing the aisles of the Pound Ridge Library in search of a new book. Cynthia was also a long-time member of Waccabuc Country Club where she played countless rounds of golf and enjoyed many hours of lively conversation over meals with dear friends.
Cynthia was the devoted mother of two daughters: Katherine Ann Daigle (Luke), and Elizabeth 'Tizzie' Ann Mantione (Tom), both of Ridgefield, CT. The three ladies were delighted to have celebrated Cynthia's love of travel on a South African safari in 2020. It was a treasured trip that will evoke memories for a lifetime.
Cynthia is also survived by her grandson Nico and granddaughters Jax, Sofia and Zoe, her older sister Barbara Russell of Saugerties, NY, as well as two nieces and three nephews to whom she has always been known as 'Niecie'.
An intimate service and burial will be held for immediate family. A celebration of her life will be planned for late spring. In lieu of flowers, please consider a donation to the Pound Ridge Community Church (poundridgecommunitychurch.org/offeringsanddonations; 3 Pound Ridge Road, Pound Ridge, NY 10576) or American Field Service (afs.org/donate; 5 Hanover Square, Suite 200, 2nd Floor, New York, NY 10004), organizations that were near and dear to Cynthia's heart.