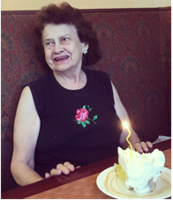 Henrietta Cohn
Henrietta Cohn, 93, of Somers, NY passed away on Tuesday, April 6, 2021. She passed peacefully, listening to one of her favorites, Andre Rieu, with her daughter and granddaughter by her side.
Henrietta was born on August 17, 1927, in Magoffin County, Kentucky, to Gertrude and David Morris. She was married to Ben, the love of her life, for 50 years before his passing in 1999. She loved children, teaching, reading, writing poetry, playing cards, lemon meringue pie, classical music, and traveling. She will always be remembered for her bright red lipstick, gorgeous gardens, and her love for the Yankees.
She is survived by her two children, Joanna Nash and David Cohn and 6 granddaughters; Andrea, Ashley, Brittany, Hadley, Shannon and Sydney.
In Lieu of flowers, the family has requested that remembrances be made in the form of contributions to the Somers Senior Services, PO Box 236, Lincolndale, NY 10540, which she enjoyed going to for many years.