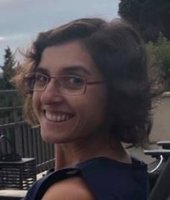 Beth Llanos
Beth Llanos, formerly Beth Zumbach, of Katonah, NY, passed away on May 19, 2021 at her home in Katonah surrounded by family after a long battle with a brain tumor. She was 46.
Born in Mt. Kisco, NY, Beth grew up in Katonah, daughter of John and Marsha Zumbach and oldest sister to John Zumbach (Ashland, NH) and Scott Zumbach (Hampton, NH). She attended Katonah's public schools, graduating in 1993 from John Jay High School. In 1997, Beth graduated from the University of Notre Dame with a Bachelor of Arts. Following college, Beth's adventurous spirit and desire to share her gifts brought her to Japan where she lived and taught English for two years. Beth then worked in Manhattan and Stamford, CT, where she was a Human Resources Manager at Booze Allen, Pricewaterhouse Cooper and RSM. Her most rewarding career, and the one that she was most invested in and proud of, was being CEO of the Llanos Household.
Beth was a devoted wife to her high school sweetheart, the love of her life, and her best friend, Paul Llanos. Her role as mother to her two children, Adam and Jake Llanos, was one that she treasured immeasurably and fought to keep for as long as possible. Beth was also a daughter, sister, sister-in-law, aunt, and friend who cherished time and meals with loved ones, who could always be relied upon, and who listened intently and cared deeply. Beyond family and friends, her passions included swimming, boating and kayaking on Lake Waccubuc and cheering on her boys' during their countless sports and activities.
Beth touched many lives, warmed many hearts, and inspired many souls throughout her journey; she will be greatly missed.
A Memorial Service will be held from 1pm to 5pm on Sunday, May 23rd at Clark Associates Funeral Home, 4 Woods Bridge Rd, Katonah NY.
A Memorial Mass will be celebrated at 10am on Monday, May 24th at St. Mary of the Assumption Church, 55 Valley Rd, Katonah. The Mass is open to all yet Covid restrictions may limit attendees in the church and masks are required.
A celebration of Beth's life will take place following the Mass at 182 Allison Road, Katonah NY.