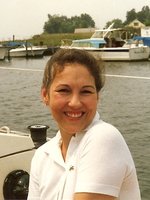 Joyce F. Tomaselli
Joyce (Wood) Tomaselli, 76, of Pound Ridge, NY passed away peacefully at home on May 17, 2021 after a long battle with early onset dementia.
Joyce was born in Altoona, PA on February 13, 1945. She also lived in Chambersburg, PA and Okinawa, Japan before graduating from Kubasaki High School in 1963. She then moved to New York City where she studied fashion at the Traphagen School of Design. On her 26th birthday, February 13, 1971, Joyce married Charles M. Tomaselli wearing a wedding gown of her own design.
Along with doing a little fashion modeling, Joyce worked in the fashion industry while living in Brooklyn Heights, NY. Joyce then became a resident of Pound Ridge in 1976, where she lived with Charles for 45 years and raised two daughters. She enjoyed sewing, dressmaking, music, dancing, gardening, gourmet cooking and her pet terriers.
Joyce was a devoted wife and mother, survived by Charles, her loving husband of 50 years, daughter Christina Tomaselli of Portland, OR, daughter Tara Tomaselli-Carman and son-in-law Chris Carman of Bethel, CT, her brother Ken Wood and sister-in-law Andy Wood of Columbia, MD, and nieces, nephews, family and friends. Joyce is preceded in death by her brother Bill Wood, and parents Jeanne and Ken Wood.
A private funeral service will take place at a later date.
The family extends a special thanks to each caregiver and medical professional who has provided care and assistance to Joyce throughout her illness.