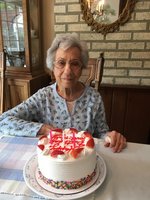 Mary Gatto
Mary DeLeo Gatto, 97, a resident of Katonah, N.Y. for 59 years, formally of Scranton PA. and White Plains, N.Y.
died on May 30, 2021 at The Grove at Valhalla.
Mary was born May 23, 1924, in Scranton PA. to the late Angelo DeLeo and Rose Sgobbo DeLeo. She is preceded in death by her husband of 70 years, Ralph Gatto, 2 brothers, Rocco "Rocky" and Samuel DeLeo and 3 sisters, Angelina DeLeo Candrea, Josephine Caverly and Rosemarie DeLeo.
Mary was a graduate of White Plains High School and upon graduation, she was a bookkeeper at the Reader's Digest.
On November 17, 1946, she married Ralph Gatto. When they moved to Katonah, Mary spent her time volunteering at Saint Mary of the Assumption School. She worked with the reading program, was a class mother and helped with fund raising for 8 years. She also was a member of the Katonah Civic Club where she volunteered at their Katonah Thrift Shop and other activities up until the age 93.
Along with her husband, Mary was an avid New York Yankee fan. They would always watch the games together. She looked forward to her Thursday nights, where she belonged to a league at the Mt. Kisco Bowling Alley and her shenanigans with her friends Millie,
Mary V., Marg, better known as the M&M's .
Most of all, nothing meant more to her than her family and friends. Whether or not there was an occasion, she enjoyed having gatherings at her home and she could not get by without serving her famous sauce, pasta and meatballs.
Mary was the beloved wife of Ralph Gatto, a loving mother of Jodi Gatto Lucado and devoted grandmother to Lauren Harper (Duane), Heather Rea, and Taylor Lucado, great grandson Bentley Carson Saunders, and great granddaughter Ivory Rose Christian, all of Lynchburg, Virginia. She is also survived by a devoted nephew Robert Candrea (Cheryl) and many other nieces and nephews of whom she loved dearly.
Friends may call at Clark Associates Funeral Home, 4 Woods Bridge Road, Katonah on Friday, June 4, 2021 from 3-7 pm.
The Mass of Christian Burial will be held at Saint Mary's Church, 55 Valley Road, Katonah on Sat, June 5, 2021 at 10:00am
Interment will follow at Oakwood Cemetery, Mt. Kisco.