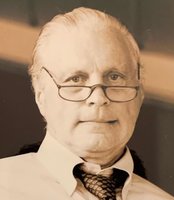 Kenneth R. DeRoberts
Captain Kenneth R. DeRoberts, USMC, 78, a long-time resident of Pound Ridge, NY, passed away on Wednesday, June 2nd, 2021 due to heart complications. Kenneth was born on September 8th, 1942 in Bronx, NY to the late Armond and Mildred DeRoberts. He was the brother of Jacqueline Vitaglione, William DeRoberts and the late Richard DeRoberts.
Captain DeRoberts attended White Plains High School and graduated from Monmouth College with a Bachelor of Arts in Political Science. Kenneth served an 11-month tour in Vietnam as the Commanding Officer, 1st Battalion, 10th Marines, 2d Marine Division where he received the Navy Commendation Medal with Combat "V". He joined the United States Secret Service in 1970, and served a 25 year tenure. In 1983 he honorably accepted an appointment to President Ronald Regan's Presidential Protection Division (PPD) and spent two years in Washington, D.C. Highlights from his PPD term included traveling to Nicaragua during the Iran Contra Affair and meeting Deng Xiaoping in China. Kenneth returned to the NYC office in 1985 where he served as the Assistant Special Agent in Charge (ASAIC) until his retirement.
Kenneth was a devoted husband, father, and grandfather. He married Norma Wicks DeRoberts in 1973 and they remained married until her death in 2012. Kenneth is the beloved father of Brian (and his wife, Sharina) DeRoberts, Kevin (and his wife, Ashleigh) DeRoberts, Susan (and her husband, Adam) Brodnicki and the loving grandfather of Luke, Alexandra, Benjamin, and Jackson. Kenneth coached numerous Pound Ridge Little League teams and enjoyed managing and chaperoning the Fox Lane Ski Club. He was also an avid runner and was often seen enjoying his daily run through the town of Bedford, NY.
Service and internment will be held at Arlington National Cemetery at a future date.