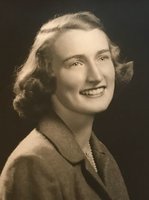 Marjorie W. Piker
Marjorie Winifred Piker, a 50-year Katonah resident, died peacefully on June 7, 2021, at Northern Westchester Hospital due to underlying health conditions.
She was born in Ossining, New York on October 20, 1931, to Albert and Winifred Whitfield.
Upon graduating from high school, she went to Chatham College where she initially studied chemistry. Subsequently, she changed her major to history and economics.
From Chatham she enrolled at Cornell University Graduate School where she studied Student Personnel Administration.
At Cornell she met her future husband, also a graduate student. Both were dormitory counselors and were married at the Cornell Chapel in June 1956.
Following their marriage, they relocated geographically several times, eventually moving to Katonah in 1969.
Although she was busy raising a family, she soon became known as a professional volunteer. She helped found the Country Children's Center, served as a Brownie and Girl Scout Leader and as a Council trainer for several years.
When her husband was transferred to London, England in 1979, she served as a Trainer for the Atlantic Girl Scout Council and as a local Girl Scout Leader in the UK.
Additionally, she was an ardent supporter of The Community Center of Northern Westchester, AHome, and held several key positions at St. Luke's Episcopal Church. Known for her keen mind and strong opinions, she was often referred to by her friends as Sergeant Major.
Upon reaching agreement in a discussion, she would close by saying, "Righteo."
In addition to her love of family and community service, she was an avid gardener, designing and caring for the Piker gardens on Mustato Road which were admired by many. Additionally, she was an avid reader - sometimes 3-4 books at the same time.
Furthermore, she was a food lover and an accomplished chef- well known for her preparations of culinary delights and an extensive collection of cook books. At one large gathering she prepared 25 desserts for her guests.
She is survived by her husband, Fred, to whom she was married for 65 years; daughter Eileen who lives in Ashland, Oregon; son Keith and his wife, Lisa, and granddaughters Caitlin and Emily who live in West Hartford, Connecticut; son Michael and his husband Jed who live in Amsterdam, Netherlands; sister Dorothy Purdy who lives in New London, NH; and sister Alberta Natoli who lives in Belmont, Massachusetts. She was predeceased by her sister, Eileen Argenziano.
Following a Memorial Viewing at Clark Associates Funeral Home, 4 Woods Bridge Rd Katonah, NY 10536 on June 24 from 4-6 pm and 7-9 pm, a Funeral Service will be held at St. Luke's Episcopal Church, 68 Bedford Road, Katonah, NY 10536 on June 25 at 11 am. Interment private.
In lieu of flowers, a donation may be made to St Luke's Episcopal Church in memory of Marjorie W. Piker and mailed to St. Luke's Episcopal Church, P.O. Box 602, Katonah, N.Y. 10536.