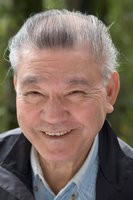 Tom Y. Toy
Tom Y. Toy passed away of natural causes, surrounded by his family, on June 24, 2021. He was 91. Tom was an architect and longtime resident of Somers, New York. For over 50 years, Tom and his wife of 65 years, Mary Huie Toy, lived and raised their two children in the dreamhouse he designed.
Tom was born in Canton, China on October 18, 1929. In 1939, he immigrated to the United States as a "Paper Son" with his mother Chin Tue Yee to reunite with his father, Lau Wah Shue. The 10 year delay was due to the Chinese Exclusion laws of the time. He taught himself to speak English, graduated from Roosevelt High School in Yonkers, NY where he ran track, was a school photographer and became fully immersed in American culture.
In 1952, while a student at Rensselaer Polytechnic Institute (Phi Sigma Kappa) a serendipitous blind date with her sister May led to Tom meeting Mary Huie. Mary took a liking to the handsome young man in uniform (he was an Army reservist) and a 4 year courtship began. After graduating from RPI and serving in the Korean War, Mary finally relented and they were married in 1956.
A proud naturalized U.S. citizen, he hung the American flag outside the family's house every July 4th, Memorial Day, and Labor Day for as long he lived. Tom was a long-time employee of the United States Postal Service, where he was Manager of Design, and previously worked as an architect at Rose, Beaton, and Rose in White Plains.
A funny, kind, gentle, and intrepid man, Tom was devoted to his family, loved being on the cutting edge of technology, being a world traveler, and playing blackjack. Most of all he loved being a grandfather to Kelly and Dex. Yeh Yeh (or YY in millennial) never missed a game, recital, concert or show of his grandchildren or children, documenting virtually every moment. He leaves a legacy of creativity, artistry, and ingenuity along with a library of photos and videos.
Tom is survived by his wife Mary, his son David Lawrence Toy (wife Lynne Healy Toy, children Kelly Evelyn Toy and Dexter Healy Toy), and his daughter Christine Toy Johnson (husband Bruce Alan Johnson). A private celebration of his life will be held later this year.