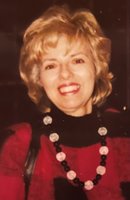 Audrey Kahn
Audrey Solomon Kahn, age 84, of Pound Ridge, New York, passed away on July 16, 2021, at Red Mountain Assisted Living in Gilbert, Arizona. She was born on December 12, 1936, in the Bronx, New York, to the late Jean and Sydney Solomon. She was the wife of the late Lydell J. Kahn. She graduated from New Rochelle High School and Vassar College and went to work for the Ladies Home Journal.
Audrey and her husband founded Merry Thoughts, Incorporated. They traveled throughout Europe and the United States for their business.
Audrey was a bright, intelligent woman, interested in researching her family genealogy, designing and working in her extensive garden, and reading about her favorite president, Thomas Jefferson. She loved her family very much, especially her grandchildren.
She is survived by her two sons, Peter (Mindy) Kahn of Granite Springs, New York, and James (Karen) Kahn of Gilbert, Arizona, and nine grandchildren Andrew, Jennifer, Melissa, Sydney, Matthew, Alexa, Joshua, Christopher, and Abigail. She is also survived by her sister Stephanie (Leonard) Farber of Branford, Connecticut.
As Audrey was an avid reader and loved books, the family is asking those wishing to make a donation in her name to please make a donation to your local library.
Services and Interment are private.