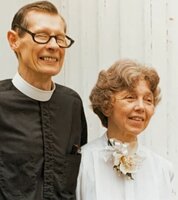 Colice "Kay" Hybel
Colice ("Kay") Hybel passed away peacefully in Manhattan on April 24, 2020, 93 years young.
Kay was born Colice Mildred Kannofsky on August 14, 1926 in Tottenville, Staten Island, New York. Kay excelled academically, graduating as valedictorian of Tottenville High School in 1944 and earning her B.A. from Hunter College in 1948.
Kay married her high school sweetheart Bob Hybel in 1947. After graduating from Hunter, she joined him at Princeton University (Class of 1951) until Bob graduated. They lived for a time in Chelsea, NYC while Bob attended General Theological Seminary. In 1958, Kay and Bob moved to Somers, where Bob became the minister of two churches: St. Luke's Episcopal Church and St. James' Episcopal Church in North Salem. Kay was an active member of St. Luke's, teaching Sunday School, singing in the choir, and organizing country fairs and rummage sales. She also hosted luncheon for the vestries of both churches in honor of the yearly Bishop's Confirmation visitation.
Kay single-handedly ran a full-time household while raising her four children, Mark (Nancy), Matt (Barbara), Paul (Elizabeth) and Jennifer (Ernie), with a forgiving sense of humor and a loving touch. Kay was also grandmother to six: Geoff (Michael), Nick, David, Lucien, Maurice and Solange.
Kay had a life-long love of reading and always had a book open on her bedside table. Among her favorite authors were Margaret Atwood and Judy Bloom. She also loved a good murder mystery from time to time. Kay was the Young Adult librarian at Somers Library for 10 years and later volunteered in the same capacity at the Katonah Public Library
After Bob died, she lived for a time in Nyack before returning to Manhattan, where she quickly renewed her love of the art collections at MoMA, The Met and the Frick Museum. She enjoyed penning short pieces of poetry, often choosing animals or her grandchildren as her subjects.
We feel blessed to have been graced with such a wonderfully kind, dedicated and loving Mother and Grandmother. She was beautiful inside and out and will forever live on in our memory.
A Memorial Service will be celebrated on Saturday, September 18th at 2:00 pm at St. Luke's Episcopal Church, 331 Route100, Somers, NY.
Donations in honor of Kay's life can be made to St. Luke's Episcopal Church, Somers, NY.
She longest lives,
Who most to others gives,
Herself forgetting.