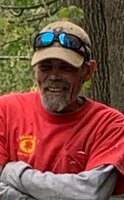 Marco S. Ganley
Marco S. Ganley, 57, of Purdys, NY formerly of Katonah, NY & Colorado, died Thursday, September 9, 2021 at the Weill Cornell Hospital in New York City.
Marco was born May 11, 1964 in Germany to the Elfrieda Chadwick and the late Patrick Ganley. He came the the United States as a young boy.
Marco was a man of many trades & talents. He was a certified diesel mechanic and licenced trapper. Most recently, he workd as a heavy equipment operator and arborist. He was also the caretaker for apartments in Purdys. Marco was an active member of the Sons of the American Legion for the Mount Kisco Chapter.
In his spare time, Marco loved riding his Sturgis, fishing, being at the"office", going for weekend adventures and spending time with his grandchildren. He had a passion for music & enjoyed playing an electric bass. He was an extremely devoted pet parent to his adoring dog, Harry.
Marco is the beloved fiance & best friend to Kelley Kurrelmeyer of Purdys, NY. He is the loving & proud father of Randyn Dickens and proud father-in-law of Caleb Extance of Brewster, NY. He is the adoring grandpa to Jake, Connor, Avery, Alera and Alvie. He is the devoted & loving son to Elfrieda Chadwick of Cocoa, Fl and a loving nephew to Lottie Coons of Cocoa, FL. He is a brother to Claudia Schulze of Germany and above all is a true friend to so many people.
Friends can attend a Celebration of Marco's Life at the American Legion in Mt. Kisco, NY on Saturday, October 2, 2021 from 2:00 - 6:00pm.