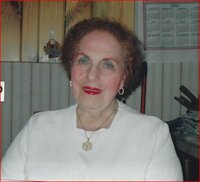 Rose Fiumara
Rose Fiumara, 92, of Bedford Hills, NY entered heaven on September 24, 2021.
Rose was born on August 27, 1929 in Mount Kisco, NY to the late Frank and Lucy Arena. She was a graduate of Saint Mary's High School in Katonah, NY.
Rose worked at the Mount Kisco National Bank and Trust Company as a teller. She later worked at the Readers Digest and was responsible for distribution in New York State. She knew every New York zip code by heart.
Rose met the love of her life, Frank Fiumara, and married in Buenos Aires, Argentina on February 13, 1954. After they started their family, Rose worked as secretary for Walmara Construction Company in Bedford Hills, a company her husband started in 1966.
She was an avid reader and cherished her book collection. Rose was also an excellent cook and enticed the family to meet on Sundays for delicious family dinners also welcoming countless friends throughout the years. She is remembered as a woman that loved to dress up to welcome each new day and continued this trend into her 90's. When Rose was younger she was fond of spending time with family in Italy and also enjoyed family vacations in Boothbay Harbor Maine. One of her favorite memories was the time she spent in California with her husband traveling the coast and visiting with friends.
Rose's greatest love was her family and friends. She welcomed everyone no matter what troubles or happiness was to be shared. Everyone always felt cared for, accepted and loved in her presence. Rose is the beloved wife of Frank Fiumara and loving mother of Frank (Mindy) and Marisa (Marcell) of Bedford Hills. She is also the devoted grandmother of Douglas (Kelley), Diana (Christina), Jaime (James) and four great-grandchildren, John, Joseph, Quentin and Zac. Rose is the sister of Marian Angel (Diego) and Carol and late brother, Nicholas. She also leaves behind countless beloved nieces and nephews.
Family and friends may call at Clark Associates Funeral Home 4 Woods Bridge Rd, Katonah on Tuesday, September 28th from 3pm – 7pm.
The Mass of Christian Burial will be celebrated at St. Mary's RC Church 55 Valley Rd. Katonah on Wednesday September 29th at 11:00 am.
Interment will follow at St. Francis Cemetery, Mount Kisco.
In lieu of flowers, contributions can be made to Support Connection, 40 Triangle Center, Suite 100, Yorktown Heights, NY 10598 a local non-profit that brings help and hope to people fighting breast and ovarian cancer.